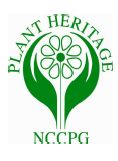 Plant Heritage East Dorset Programme 2017
Meetings are held at Colehill Memorial Hall, Colehill, Wimborne BH21 2HL. Doors open at 2pm for a 2.30pm start, unless stated otherwise. Plants and goods for sale. Refreshments. Visitors £3.00.
Saturday 21st January
Speaker: Ben Turner, Arboricultural Officer for Bournemouth Borough Council
"Inspiration from Tresco Abbey Gardens"
Saturday 18th February
Speaker: Tim Hooker, President of Plant Heritage Dorset Groups
"Dorset Wild and Tame"
Saturday 18th March
Speaker: Val Bourne, writer,
photographer and RHS judge
"Woodland Shade"
Saturday 22nd April
Speaker: Rosie Hardy of Hardy's Cottage Garden Plants, Whitchurch, Hampshire
"Early Summer Perennials"
There will also be a seedling swap at this meeting.
Saturday 20th May
Speaker: Timothy Walker, botanist, author and lecturer at Somerville College Oxford
"The Healing Power of Plants"
Friday 2nd June
East Dorset Group Celebrity Lecture
Cleve West
Garden Designer and Chelsea Gold Medal Winner
"From Spuds to Chelsea" and "Horatio's Garden"
Allendale Centre, Wimborne
7pm for 7.30pm
Plant Heritage & Hardy Plant Society Members £8.00 Others £10.00
Raffle & Gardening Goods for Sale
Saturday 16th September
Speaker: Dr Andrew Ward of Norwell Nurseries, Norwell Newark, Notts
"Plant and Prejudice"
Saturday 21st October
Speaker: Troy Scott Smith, Head Gardener at Sissinghurst Castle Garden
"Sissinghurst – Revitalising Vita"
There will also be a plant swap at this meeting.
Saturday 18th November
Please note: 2pm for AGM
Speaker: Marcus Dancer of Marcus of Dancers Plants, Fordingbridge
"New and Exciting Plants"