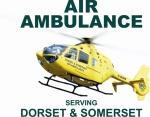 The Dorset and Somerset Air Ambulance came into service in March 2000 and has attended to over 6000 incidents. The aircraft responds mostly to emergency calls such as road traffic collisions and sporting incidents. On average it receives 3 to 4 calls per day, but during busy periods and summer months, it can be up to 8.
The Dorset and Somerset Air Ambulance needs £3,800 a day to keep its helicopter and highly trained crew in the air. As a charity, the service relies on the generosity of individuals and organisations to help it continue its life-saving work. Airborne within three minutes of a 999 call, the Air Ambulance can reach most of its operational area within nineteen minutes. It needs an area only half the size of a tennis court to be able to land. It can then transport patients to the appropriate hospital for their injuries – being able to do this will make the difference between life and death for many patients.
You can help this vital service by recycling your unwanted clothes, shoes and household textiles. Next time you clear out please use the banks at the Co-op and Hayeswood First School.The Dorset and Somerset Air Ambulance urgently needs your donations.
For more information on your nearest textile bank visit www.bagitup.org.uk. For more information about the Air Ambulance visit www.dorsetandsomesetairambulance.org.uk or telephone 01823 669604.