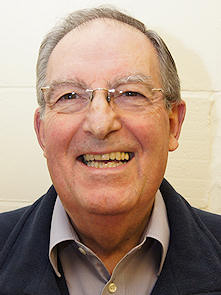 Dave Mitchell was born in Wimborne and educated at Bournemouth School. After National Service in the RAF he joined the Police Service in London, retiring in 1985 as a Detective Chief Inspector. He joined a Bournemouth Law practice specialising in fraud and worked in that field in Spain, Gibraltar and Denmark as well as the UK. He finally retired in 2007.
He served on Wimborne Chamber of Trade and as Chairman of the Colehill Planning Group from 2006 and was part of the Colehill Parish Plan Steering Group in 2007.
Dave was Chairman of the Council from 2011-2014 and he currently sits on both the Finance and General Purposes Committee and the Highways and Plans Committee.  He represents the Council on the East Dorset Environment Partnership.
He is married with two daughters, one living in France and one in Weymouth, and has three adult grandchildren and four great grandchildren.   His interests include fishing, walking and gardening.