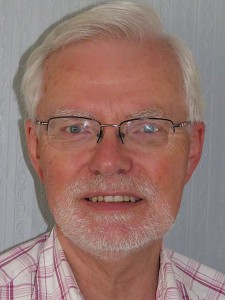 Ian was brought up in Bournemouth, where his father owned a hotel. He attended Bournemouth School and Canford School and then studied for a Civil Engineering degree at Imperial College, followed by an MSc in Town Planning at Aston University. In the mid 1970s he moved to the West Midlands to teach town planning and transport policy, firstly at Birmingham Polytechnic and finally at Birmingham University. In 2008 he retired to Colehill, and now gives talks on history and transport to local clubs and societies.
Ian is married to Linda, and they are both members of Co.MaD (Colehill Music & Drama), where Ian is the Musical Director. Among his other interests are history, railways (both full size and model), and video-photography. He is a volunteer on the Swanage Railway, and Linda and he help to run Toddler Time at Colehill Community Library. Ian served as Co.MaD representative on the Memorial Hall Management Committee for five years until 2014.
Ian was elected to the Parish Council in May 2015 and is now the Parish Council's representative on the Memorial Hall Management Committee.