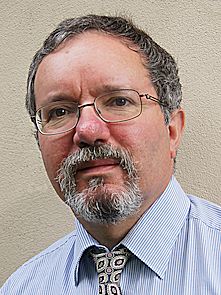 KD Johnson was born in 1961, he is married and has two daughters, who both attended local schools but are now studying at university.  He graduated in Modern Languages from London University in 1984 and now works as a self-employed IT consultant, computer reseller and business network specialist.
He has lived in Colehill since 1988, joined the Parish Council in 1999, was Chairman of the Council from 2009-2011 and was also elected to the District Council in 2015 as member for Colehill East.  He serves on both standing committees of the Parish Council and, along with Susan Cowsill, organises the regular Conservation Workdays in the woodlands owned by the Council.
KD represents Colehill on the Dorset Association of Parish and Town Councils' (DAPTC) "Towns and Larger Councils Committee" and also the Eastern Area Committee.  As vice-chair of the Towns and Larger Councils Committee he is also a member of the DAPTC Executive Committee.
KD's interests other than computers, family and The Council include amateur dramatics, wildlife and heritage conservation, country walking and bird-watching.