Library links: CCL     About Us     Supporters     Community     News    Activities & Events     Books     Services      Event Reports
2017 Calendar of Events
For Latest Information see our Facebook page
---
— SPECIAL INTEREST GROUPS —
DATES for Group meetings:-
First Thursday – Family History 10am – noon (EXCEPT AUGUST).
Find Your Ancestors
The Family History Group can help you to get started on your own family research.
You may discover facts about recent ancestors, find missing relatives, investigate military service or begin to trace your complete tree.
The library has free access to the Ancestry website and the group has experienced researchers who can show how to use it, and advise on other websites that are available, many for free. Contact ccl.colehill@gmail.com (fao Dave Campbell) for details.
Second Thursday – Local History will not be meeting on Thursday mornings for a while,
but watch this space for special talks and events about the history of Colehill.
Third Thursday – "Just Write" Writing Group 10am – noon.
LAST Thursday – Knit and Natter 10am.
First Tuesday – Colehill Reading Group (now incorporating Colehill Bookworms), 1 – 2pm
LAST Fridays – Colouring for Adults 10am – noon.
"Life on the Hill" project  – book launched, see below.
—  IT One to One Sessions  —
Tuesday mornings – Half hour sessions with our well qualified volunteer to learn how to better use your laptops, tablets and notebooks.
There is no charge but donations to the Library are always welcome. Book your session at the library desk.
–––––––––– Events

––––––––––
BOOK NOW for the next Library Fundraising Event!!


(Tickets from the Library unless stated otherwise)
––––––––––––  September 2

017 

––––––––––––
12th – TODDLER TIME   Stories and Rhymes at Colehill Community Library restarts
~~~

Wednesday, 27th – 7.30 p.m. in the Library
~ Library lectures ~

LIPSTICK AND LIBRARY BOOKS
Jackie Winter
T
his is the story of Boots' libraries, set within the context of life in Britain during the first half of the twentieth century. It is a unique social history of working life at the time. Former staff share entertaining memories of Class A subscribers lording it over humble category B subscribers. Customers were segregated and had to use different counters. Post war years brought social and economic change, including better public libraries and affordable paperbacks. Defeated by falling membership, rising costs and an unfashionable image, the last library closed in 1966.
If you'd like to come along, simply add your name to the list at the desk in the Library
––––––––––––  October 2

017 

––––––––––––
Friday, 6th – 7 for 7.30 pm, in Colehill Memorial Hall
Raising funds for Colehill Memorial Hall
AN AUTUMNAL SELECTION
Tasting wines with expert Ted Orchard
with either chicken fillet or local butcher's ham or vegetarian quiche all served with a green salad, coleslaw and potato salad and half a baguette
Tickets £20 available from Denise (o12o2 888348) or Barbara (o12o2 88259o) or Colehill Community Library. Raising funds for Colehill Memorial Hall
~~~~~
Wednesday, 25th – 7.30 p.m. in the Library
~ Library lectures ~

THE BRUNELS, ENGINEERS EXTRAORDINARY
Marc and Isambard, father and son, what a combination!
Dr Ian Dickins
The fascinating story of two of the greatest engineers of the nineteenth century.
If you'd like to come along, simply add your name to the list at the desk in the Library
~~~~~
Friday, 27th – 7 for 7.30 p.m.
Friday Night is Music Night
with Martin & John, and No Direction
A light hearted evening of local singers and musicians …
Bring own nibbles & drinks & glasses to Colehill Memorial Hall
Tickets £6 available in Colehill Community Library
For more information contact O12O2 8828O8
–––––– 

Other Events of Interest

 

––––––
Deans Court Public Openings 2017 (by guided tour)
August: 27, 28, 29, 30
For details see www.deanscourt.org/website/#visit 'Openings & Tours' (about half way down).
–––––––  2017 Coach Trips

 

–––––––



Saturday, 2nd December  – Portsmouth Dockyard 
  Victorian Festival of Christmas – £27 adults / £24 children
A magical day out – be transported back to a bygone era of Dickensian snowy streets at the Victorian Festival of Christmas – one of the most talked about events on the south coast in the run up to Christmas (3 days only). Visit the Mary Rose Museum, HMS Victory or even a Harbour tour. What a day!
Explore Portsmouth 2017

Tickets on sale in the Library FROM OCTOBER, must be bought in advance
–––––––––––

––––––––––––
"Life on the Hill" Book Launched
The new book was launched on 12th November 2016. Pictures are on the Event Reports page
Copies are available in the Library during normal opening hours, price £9.50
Contact –  ccl.lifeonthehill@gmail.com
Please visit and "like" us https://www.facebook.com/ccl.lifeonthehill
---
TODDLER TIME   Stories and Rhymes at Colehill Community Library runs WEEKLY from Tuesday 12th September 2017
(except school holidays and half terms), 10 to 10.30 am – FREE sessions for parents and children 0 to 5 years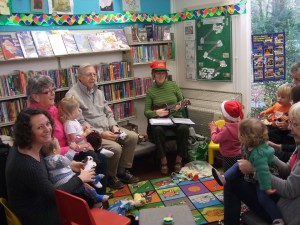 ~~~~~~~~~~~~~~~~
The company's  AGM was held on the 20th August 2016 – all votes were passed.
June 2016 – Dorset joined the 'LibrariesWest' group
https://www.dorsetforyou.com/article/422461/LibrariesWest
~~~