Library links: CCL     About Us     Supporters     Community     News    Activities & Events     Books     Services      Event Reports
2018 Calendar of Events
For Latest Information see our Facebook page
---
— SPECIAL INTEREST GROUPS —
DATES for Group meetings:-
First Thursday – Family History 10am – noon.
Find Your Ancestors
The Family History Group can help you to get started on your own family research.
You may discover facts about recent ancestors, find missing relatives, investigate military service or begin to trace your complete tree.
The library has free access to the Ancestry website and the group has experienced researchers who can show how to use it, and advise on other websites that are available, many for free. Contact ccl.colehill@gmail.com (fao Dave Campbell) for details.
Second Thursday – Local History will not be meeting on Thursday mornings,
but watch this space for special talks and events about the history of Colehill
Third Thursday – "Just Write" Writing Group 10am – noon
LAST Thursday – Knit and Natter 10am (except December)
SECOND Tuesday (from Feb 2018) – Colehill Reading Group (incorporating Colehill Bookworms), 1 – 2pm
LAST Fridays – Colouring for Adults 10am – noon (except December)

—  IT One to One Sessions  —
Tuesday mornings – Half hour sessions with our well qualified volunteer to learn how to better use your laptops, tablets and notebooks.
There is no charge but donations to the Library are always welcome. Book your session at the library desk.
— See the Books page for details of new local books and secondhand books for sale —
–––––––––– Events

––––––––––


BOOK NOW for the next Library Fundraising Event!!

(Tickets from the Library unless stated otherwise)
––––––––––––  February 2018  –––––––––––––
From this month Colehill Reading Group will meet on the  SECOND Tuesday, 1 – 2pm
~~~~~

Fish & Chip Supper
plus the fabulous vintage vocal harmony duo 'Scarlet Swing'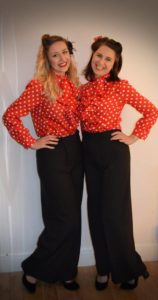 Friday 23rd February @ 7.30 pm
in Colehill Memorial Hall
Tickets £12
Plus Quiz and Raffle. Bring your own drinks and glasses
Tickets on sale in the Library, must be pre-booked
or contact Val, 01202 884079
––––––––––––  March 2018  –––––––––––––
DO YOU NEED A FEW NEW SEPARATES TO LIVEN UP YOUR WARDROBE? WOULD YOU LIKE THEM AT BARGAIN PRICES?
LOOK NO FURTHER!!  COME ALONG TO THIS EVENT AND ENJOY AN EVENING OF FASHION AND FUN HOSTED BY
TRAVELLING TRENDS
TRY ON AND BUY THIS SEASON'S HIGH STREET FASHIONS AT PRICES TO SUIT EVERYBODY
Friday, 16th March

7.30 p.m. in Colehill Memorial Hall
Tickets £5 in advance please, on sale in the Library, or from Val on 01202 884079
Bar and Raffle
~~~~~

Tuesday, 27th – Coach trip to BLETCHLEY PARK – £40
Explore, experience and enjoy the once top-secret world of iconic Code-breaking Huts and Blocks set within an atmospheric Victorian estate.
Once the top-secret home of the World War Two code-breakers, Bletchley Park is now a vibrant heritage attraction
with rescued and restored huts exhibiting various aspects of life there during the early forties.
There is a new exhibition in Hut 11 'The Bombe Breakthrough and its WRNS Operators'.
Coach trips for 2018 are now booked using an Information/Booking form – BookingFormBletchley.pdf
Paper copies of this form are in the library.
Please return the booking part to the library by 5pm on Monday 12th March.

––––––––––––  Future Events  –––––––––––––
Coach trip to Oxford or Blenheim – a combined trip on Wednesday 9th May – choose:
Coach trip to Oxford – City of Dreaming Spires
There are 38 colleges in the city's medieval centre – University College and Magdalen College are off the High Street,
which runs from Carfax Tower (with city views) to the Botanic Garden on the River Cherwell.
Tickets £25 (includes coach travel and driver's gratuity)
OR
Coach trip to Blenheim Palace – UNESCO World Heritage Site and birthplace of Sir Winston Churchill
Plus two thousand acres of formal gardens and parkland created by 'Capability' Brown
Tickets £40 (includes Palace entry, coach travel and driver's gratuity)
Check back here in March for notice of when booking form & tickets will be available in Colehill Community Library
For more information contact o12o2 84o62o
––––––––––

––––––
---
TODDLER TIME   Stories and Rhymes at Colehill Community Library runs WEEKLY from Tuesday 9th January 2018
(except school holidays and half terms), 10 to 10.30 am – FREE sessions for parents and children 0 to 5 years.

June 2016 – Dorset joined the 'LibrariesWest' group  https://www.dorsetforyou.com/article/422461/LibrariesWest
~~~