Go back to Activities page:  activities-and-events
1. Books from our own stock for sale:
These are books that have been donated to the library but aren't suitable for adding to the shelves as they are of niche interest.
The books are for sale on Amazon www.amazon.co.uk/shops/leslob
or contact us direct to save postage :  ccl.colehill@gmail.com (fao Dave Campbell) for details.
2. Books by local authors:

'Life on the Hill'  (Colehill Community Writing Project)
Launched on 12th November 2016
Please visit us https://www.facebook.com/ccl.lifeonthehill
No longer available to purchase in the library, but copies are available on Amazon price £9.50 and used copies appear on eBay from time to time.
To contact us:  ccl.lifeonthehill@gmail.com

'The History, Myths 
& Legends of Colehill'  by Jan Seal
Available in the library at £9.99 and also in Gullivers Bookshop, Wimborne

'Tales of Wimborne & Dorset History Volume II' by Jan Seal  launched 21st October 2017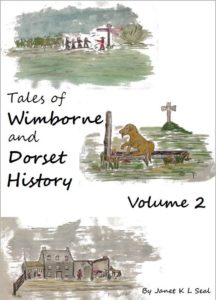 For sale in the Library @ £6.99 (A few copies of the first volume are still available from Jan Seal – email us or leave a message in the Library for her).

'Ruby Slippers' by Tracy Baines
Tracy Baines first writing was about the life of her grandmother. Now a successful short story writer, regularly published in several women's magazines, she helped us collect and publish our community anthology Life on the Hill. Ruby Slippers is a collection of her uplifting and heartwarming stories, where love and humour give us strength in what can often be complicated relationships of everyday life.
www.amazon.co.uk/Ruby-Slippers-Collection-Short-Stories….
'Pat's Story' by Pat Putt Nicholls
Pat is a member of the Just Write group at Colehill Library. She wanted to capture the fascinating stories from her family history research, and preserve them for her family and grandchildren. Spanning continents and centuries this is a personal family saga, told through the eyes of ordinary people. Authentic and honest, those who know Pat will hear her voice on every page.
https://www.amazon.co.uk/Pats-Story-Patricia-Putt-Nicoll….
'The Man with the Lovely Dog Called Pebbles' by Pebbles
Pebbles also visits the Just Write group at Colehill Library with Roger, who he works for as a Woofability assistance dog. Told from Pebbles' point of view, this is an inspiring story of how one cheeky golden retriever transforms of the life of a man struggling with disability. Beautifully illustrated with full colour drawings.
https://www.amazon.co.uk/Man-lovely-dog-called-Pebbles….
'This Little World' edited by Sue Ashby
This lovely collection of short stories about our beautiful county of Dorset includes some authors from local Colehill writing groups. Writers as young as eleven, and with no upper age limit, were involved in creating this compilation, as were Tracy Baines and Helen Baggott who helped us publish 'Life on the Hill'.
https://www.amazon.co.uk/This-Little-World-Stories-Writers….
~~~
3. Books For Loan:
We are listing books that members are prepared to lend out, starting with some books on Family History.
Contact
ccl.editor1@gmail.com
for details.
List 1 – Dave Campbell
| | |
| --- | --- |
| Great Western Horse Power | history in photographs |
| Great Western Railway Company Servants | history in photographs |
| The Story of Basingstoke | |
| The Marriage Certificate | a novel |
| Pat's Story (see above) | by Pat Putt |
| Who do You Think You are | back copies of magazines |
also various CDs relevant to Family History
National Burial Index
1851 Manchester "unfilmed" census
1810/1820 Preston Catholic censuses
Families of Montgomeryshire 1675-1825
Manchester Cathedral Burials 1573-1868

List 2 – Graham Mallett
Lee Child – various.
Nelson DeMille 'Plum Island' (1997)
(this is the only book in the Agent John Corey series that isn't in Dorset Libraries' stock)
---
Reg. Charity No. 1151552.  Registered as a Company Limited by Guarantee 08124849