Think that charges at the dump cause fly-tipping? It might be time to think again.
 As part of their current 'Tip-Off' anti-flytipping campaign, the Dorset Waste Partnership (DWP) is directly addressing some of the comments they hear from residents in the fight against the illegal dumping of waste.
The most consistent complaint received is that Household Recycling Centre (HRC) charges have directly led to an increase in fly-tipping. Yet, there is no statistical data to support this belief.
"The Enforcement Team is out every day around Dorset, investigating fly-tips and trying to catch the criminals responsible.
Most of the waste we find is regular 'black bag' rubbish; the type that can be disposed of at an HRC free of charge. Those dumped items that are charged for generally appear to have been fly-tipped by rogue traders or illegal waste carriers, such as an unlicenced 'man in a van.'
HRCs have always been for the disposal of typical household waste; Commercial waste has never been accepted for free at any of our sites. If a tradesman produces or carries waste as part of their everyday activities, that person has always needed to budget its disposal into their business costs."
The idea that the removal of HRC charges would lead to a halt in fly-tipping is a bemusing one to Jeremy. Fly-tipping was on the rise before the charges were introduced back in September 2016 and, while the trend has sadly continued, there has been no related spike in incidents since.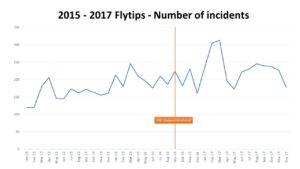 "By blaming fly-tipping solely on the council for introducing HRC charges, the problem is being oversimplified and anti-social criminal behaviour is being excused and normalised.
There are dozens of facilities across the county that accept commercial waste. Those who choose to fly-tip are simply looking to save themselves money. Understandable, but illegal nonetheless.
Even if we could open our HRCs to dispose of commercial waste for free, Dorset residents would still bear the financial cost of processing the waste through treatment or landfill tax. Why should tax-payers subsidise the profits of private businesses?"
Jeremy sometimes hears that local authorities have made access to HRCs too difficult for some.
"Our eleven HRCs are open and free to visit 362 days a year. Most vehicles – including vans, trailers and commercially registered vehicles – can enter our sites. Those that do need a permit can apply for one online free of charge and approval is usually immediate."
However, Jeremy and the DWP's Enforcement Team remain determined to get to grips with the problem: –
"We all have a responsibility to prevent fly-tipping and the only way we can effectively fight this behaviour is for local authorities and the public to work together.
The DWP has a responsibility to investigate, pursue and penalise fly-tippers, as well as clear up the mess they leave behind. We're working closely with Dorset Police and are taking more action than ever before. Concerned residents should report fly-tips to us, check they are handing their waste to a reputable business or individual and use their HRC whenever they can.
We share the public's frustration with fly-tipping; it's a blight on our beautiful county. But we're taking this problem very seriously and will continue to work toward eradicating this illegal activity."