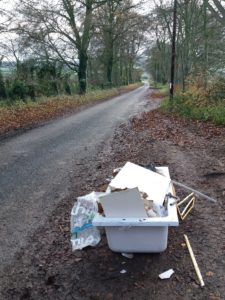 Enforcement Officers at the Dorset Waste Partnership (DWP), in a joint operation with South Somerset District Council, investigated a series of fly-tips in Sherborne and South Somerset back in November last year.
Lee Spurdle, 30, of Yeovil, was paid to collect and dispose of building waste from a local resident who was having their house renovated.
This waste was later discovered dumped across four separate locations, including near Lenthay Dairy Farm in Sherborne. Upon investigation, Enforcement Officers found evidence within the fly-tips that linked the waste to the offender.
Spurdle was subsequently located, interviewed and reported to appear in court last Wednesday (18 April) where he pleaded guilty and was fined a total of £1,588.14 for his crimes.
Jeremy Gallagher, Enforcement Officer for the Dorset Waste Partnership (DWP), said:
"We're obviously pleased with this conviction and would like to thank our colleagues at South Somerset District Council's Enforcement Team for their assistance in the investigation.
I hope this case demonstrates that fly-tipping will not be tolerated in Dorset or Somerset. By working with neighbouring councils as well as residents, we can work more effectively to clamp down on fly-tippers and stop this anti-social, illegal and dangerous activity that costed Dorset tax-payers £150,000 last year alone."
This conviction comes as the DWP launch their new 'Tip-Off' anti-flytipping campaign, which encourages Dorset residents to report fly-tipping incidents and provides important information on how you can prevent your waste being fly-tipped.