Colehill Parish Council is deeply saddened to learn of the death, on Friday, of former Parish Councillor Gwen Divall, of Northleigh Lane.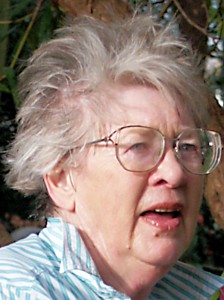 Gwen was co-opted onto the Parish Council after her husband, Gordon (himself a Parish Councillor and former Council Chairman), died in July 2002 – though she had already rendered great service to the Council in the preparation of the case for the land acquisition at "The Triangle" and also in preparing the parish history boards for the centenary celebrations (those now on display in the Betty Webster committee room at the Memorial Hall).  She served until 2007 but did not stand for re-election, due to ill health and family issues.
She has nevertheless continued to be of invaluable service to the Council and community on matters legal, historical and rights-of-way.  In particular she was involved in the recent claims for rights-of-way over the land between The Vineries and Cutler's Place.  Gwen and Gordon had lived in Colehill since 1960. Before retirement Gwen was Deputy Headteacher at Ferndown Upper School, she also served as a Magistrate for many years.
Her death has been attributed to complications with her leukaemia, which was only recently diagnosed.  She was 3 days past her 83rd birthday.
The funeral will take place at Wimborne Cemetery on Monday 17th October at 14.00.   Donations in lieu of flowers, if desired, to either the Priest's House Museum or the Open Spaces Society, via Douch & Small, 7 Leigh Road, Wimborne, BH21 1AB.